Perforated ceiling for hospital decoration with custom leaf shape simple and modern design metal ceiling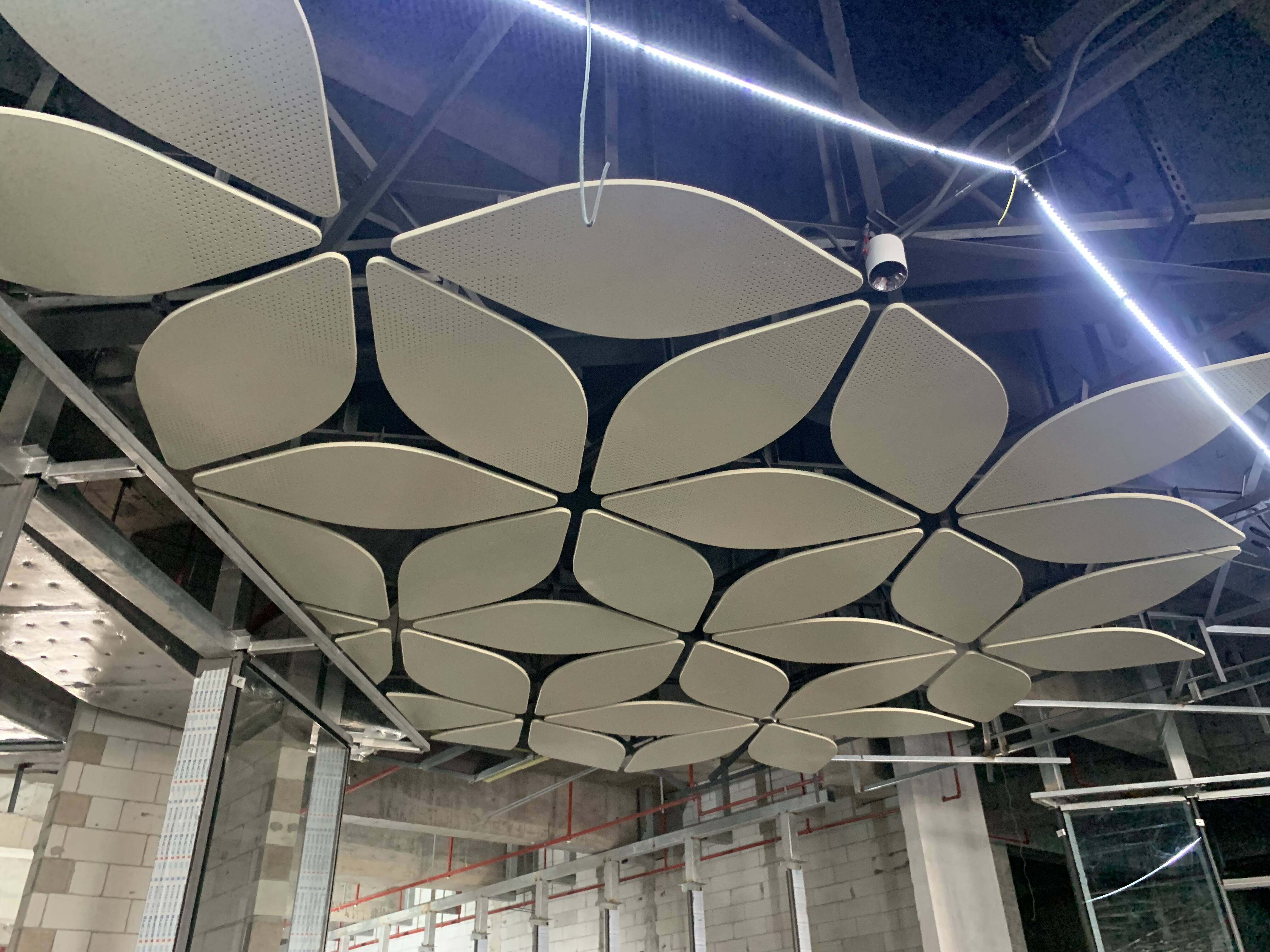 Introducing the Perforated Ceiling for Hospital Decoration with Custom Leaf Shape - a Simple and Modern Design Metal Ceiling
Enhance the ambiance of your hospital with our innovative Perforated Ceiling for Hospital Decoration with Custom Leaf Shape. This modern metal ceiling is designed to create a soothing and calming environment, while also providing functional benefits. With its unique leaf-shaped perforations, this ceiling adds a touch of elegance and sophistication to any hospital space.
The main feature of this ceiling is its perforated design, which allows for improved acoustics and sound absorption. Hospitals can be noisy and chaotic environments, but with our Perforated Ceiling, you can significantly reduce noise levels, creating a more peaceful and comfortable atmosphere for patients, staff, and visitors. The leaf-shaped perforations not only serve a functional purpose but also add a visually appealing element to the overall design.
Our Perforated Ceiling is made from high-quality metal, ensuring durability and longevity. Hospitals require ceilings that can withstand the test of time, and our metal ceiling is built to do just that. It is resistant to wear and tear, making it ideal for high-traffic areas such as corridors, waiting rooms, and patient rooms. The metal construction also makes it easy to clean and maintain, ensuring a hygienic environment for patients and staff.
In addition to its functional benefits, our Perforated Ceiling is designed with aesthetics in mind. The custom leaf shape adds a touch of nature-inspired beauty to the space, creating a calming and serene atmosphere. The simple and modern design of the ceiling complements any interior décor, making it a versatile choice for hospitals with different design themes. Whether your hospital has a contemporary or traditional style, our Perforated Ceiling will seamlessly blend in and enhance the overall look and feel of the space.
Installation of our Perforated Ceiling is quick and hassle-free. Our team of experts will work closely with you to ensure a seamless installation process, minimizing disruption to your hospital operations. We understand the importance of efficiency in a hospital setting, and our installation process is designed to be as efficient as possible.
With our Perforated Ceiling for Hospital Decoration with Custom Leaf Shape, you can transform your hospital into a space that promotes healing and well-being. The combination of improved acoustics, durability, and aesthetic appeal makes this metal ceiling an excellent choice for hospitals looking to create a modern and welcoming environment.
In summary, our Perforated Ceiling for Hospital Decoration with Custom Leaf Shape is a simple and modern metal ceiling that offers numerous benefits. From improved acoustics to durability and aesthetic appeal, this ceiling is designed to enhance the overall ambiance of your hospital. Invest in our Perforated Ceiling today and create a space that promotes healing and comfort for patients, staff, and visitors.

If any interest in custom make , or regular desgin aluminium product , please feel free to contact us.